Services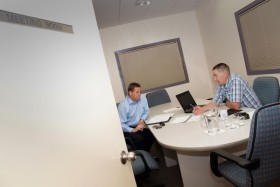 Many new and emerging businesses need a starting point or room to grow. The Greater Shepparton Business Centre can provide the ideal bridge for such enterprises, as well as a high level of moral support and encouragement.
To support this objective the City of Greater Shepparton is promoting the growth of Business in our region by providing support with office accommodation, industrial space, business support, meeting facilities, phone/fax and training services.
By providing office, industrial space and management support at competitive rates we enable businesses to minimise start up costs, creating an impetus for growth. The Business Centre rents space on a month to month basis, without requiring tenants to enter into a long-term lease. It is also flexible in its configuration and structure to allow tenants to expand and contract the space they occupy as needed.
The environment is professional and allows the tenant business to be part of a wider community thus gaining support from like-minded enterprises.
The Centre is also a member of the Small Business Centres Victoria (SBCV) network giving us links to business training and development programs. We are keen to be a support to all businesses in our region by acting as a referral base for enquiries.
Contact:
Business Centre on 03 5832 1100 or
email us
for more information.