Effective Business Networking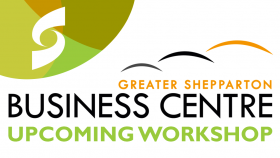 Almost 90% of business today is generated through networks!
Learn how to build relationships, communicate your value quickly and effectively, and build your reputation through both offline and online networking.
This short 2-hour workshop will help you develop effective networking skills with the latest techniques and insights straight from experts. It's also a great way to meet other small business operators in your area, grow your confidence, and put your new skills into practice.
Our venue is off-site at Welsford St Cafe promoting a relaxed and fun environment (with some awesome catering!)
When: Wednesday 10 May
Time: 6.00pm - 8.00pm
Where: Welsford St Cafe, 2/159 Welsford St Shepparton
Cost: $20.00
Please register HERE
or call (03) 5832 1100 for further information
Attachments
Contact:
Business Centre on 03 5832 1100 or
email us
for more information.